FAQ
Frequently asked questions
3d printing technics used? printers used? General pricing?
---
We use 3 different techniques for different purposes, SLM 316L, SLM Gr5 titanium, and CMF Gr5 titanium SLM from "Zero-tek", China: http://www.zero-tek.com/en/material_slm.html CMF from 3d printing services includes printing, heat treatment, support material removal and sandblasting. The CMF pricing calculated on the weight of the end product and the temporary supporting material. However, the SLM pricing is only calculated on the weight of the end product. General Pricing
CMF titanium (Gr5) 2.3-2.7 €/g (We will lower the price less than 2 euro in 2022 ) SLM titanium (Gr5) 2.7-3.0 €/g SLM stainless (316L)0.7-1 €/g SLM aluminum (AlSi10Mg) 1-1.2 €/g Mold steel (1.2709) TBC upon request
---
What is the quality of the finished surface?
---
SLM: the finish roughness is approximately R7, in the isolated areas(areas without support material).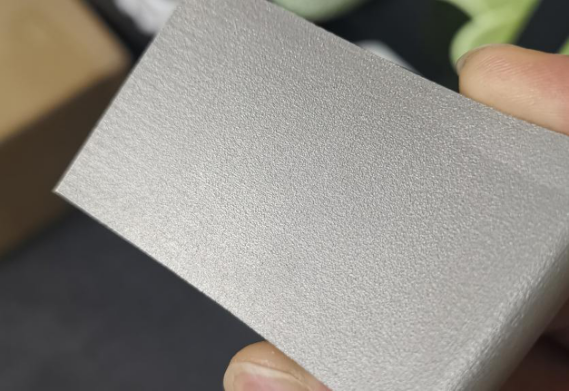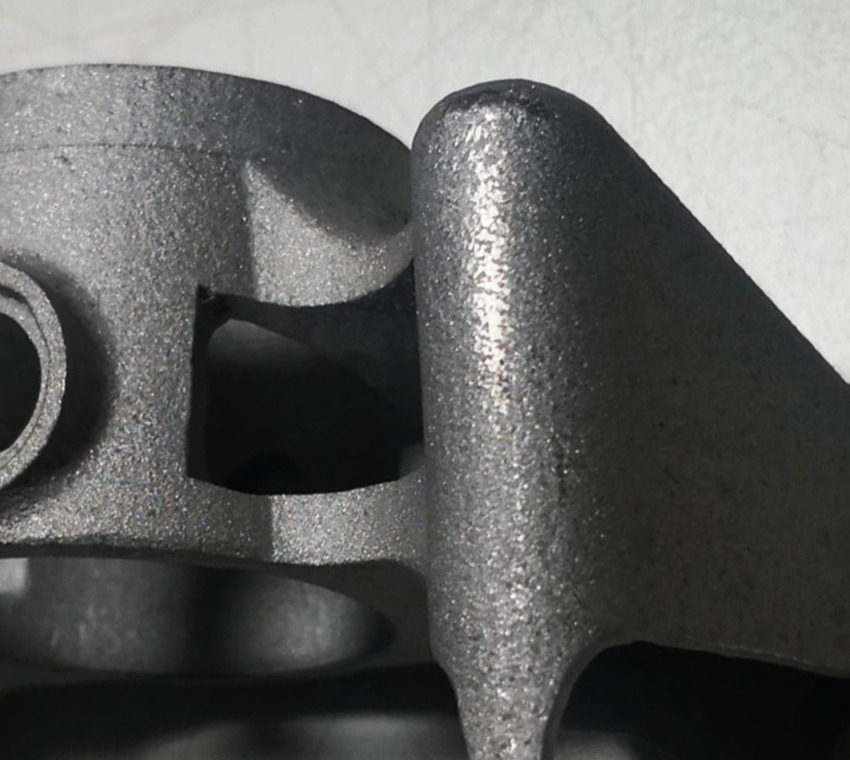 Figure 1: typical SLM surface finish
In isolated areas where the support material is removed the surface texture can be altered. During the SLM process support material is printed to support the construction of the parts and the factory will use power tools to remove the supports by hand. This will inevitably result in some minor damage to the surface where the support is attached. However, the effect can be minimised during the SLM product design phase by adjusting the printing direction to place the supporting surface in an inconspicuous location, such as the bottom surface of the fork crown, where surface texture is less important.
We would also be happy to deliver the product with the support material still attached if you would like more control over its removal.
Figure 2: typical SLM part before and after support material removed.
Figure 3: typical SLM surface minor damage to the surface of a support remove areas.
CMF: the finish is better than SLM overall and there is no need to remove the supporting material. The surface is uniform and smooth.
Figure 4,5 : typical CMF surface finish (supplied) and with polishing by the customer (with tumble machine)
---
Tolerances?
---
SLM: the parts after heat treatment generally shrink slightly. about-0.1/-0.2mm
Figure 1-3: design numbers in green, actual hand measurements in black(notice the parts are not designed with cup or supporter). CMF: tolerances of +/- 0.1 mm are possible but strongly dependant upon the part geometry. best tolerances control in all the metal printing technic.
---
General tipps for first time design of 3d printed parts
---
For SLM 1: The threads for BB shell or other big size threads are better left with a machining allowance in advance for cutting thread. Direct printing threads only recommend for M4-M8
2: Generally the minimum wall thickness is 0.8mm.

3: The gap of the product to be assembled should be placed 0.15MM on each side

4: For parts with high requirements for partial assembly (such as bearing hole/diameter/plane assembly position), leave a machining allowance in advance, and then go through secondary finishing

5: Metal printing is somewhat slender after high temperature sintering, thin-walled parts, shells and other structures will be deformed. If you would like to maintain the thin-walled shape,please design a supporter or a cap at the end of voids to avoid distortions.

6: Heat treatment is optional for CMF print design please contact us directly for further information.

---
Manufacturing and lead times
---
For CMF parts we ship from Germany worldwide by DHL For SLM parts and other frame building supplies (depending upon on your location and our inventory status),we ship from Germany worldwide by DHL or ship from China worldwide by SF-express. Lead times for stock parts is dependant upon the country but is generally shipped from our warehouse within 3 days (excluding holiday periods). Lead times for made-to-order parts are typically 10 days from confirmation of order to shipping from our factories (excluding holiday periods). However, this excludes transit time from our 3d print factory to the relevant country.
---
---